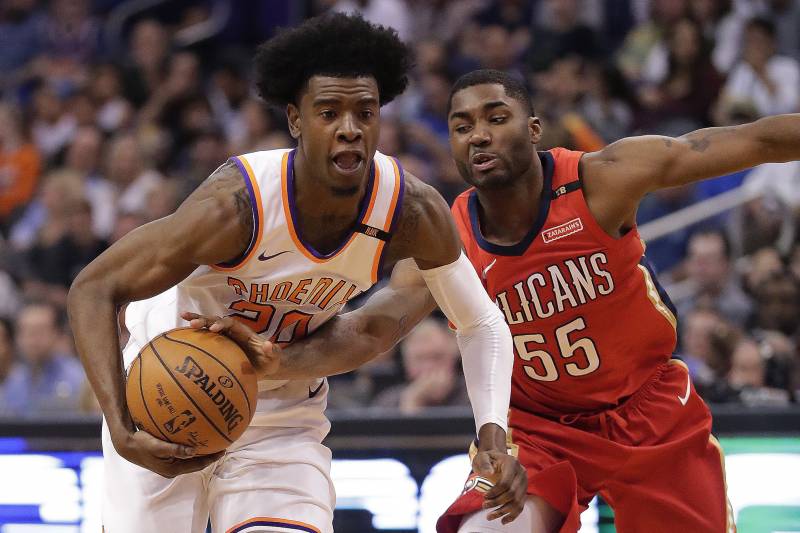 Matt York/Associated Press
Not every NBA sophomore can build on their rookie promise.
Marquese Chriss and Dragan Bender never took off. Skal Labissiere's production and efficiency both fell. The New York Knicks traded Willy Hernangomez, and the Phoenix Suns cut Tyler Ulis.
Some of last year's rookies are bound to hit a wall. And in most cases, it will be tied to their fit with either a changed roster or one that didn't add enough.
Expect the following five sophomores to have trouble making the jump many will expect from second-year players.
Phoenix Suns SF Josh Jackson
1 OF 5
Chris Elise/Getty Images
By February and March, Josh Jackson was taking more than 15 shots per game and thriving for the Suns. He took at least 23 attempts in each of his final four outings.
However, Devin Booker should be back to full strength after playing 11 times since February 6 last season. Throw in the additions of Deandre Ayton, Trevor Ariza, and Mikal Bridges, plus returning starting forward TJ Warren, and Jackson could be looking at a reduced role.
He could have used extra sophomore attempts, too, since he shot 26.3 percent from three, and his accuracy from the field has always been a weakness.
Without strong point guard play, and the addition of Ayton and two more wings, will Jackson have enough opportunities to build rhythm and confidence? He's a candidate to hit a wall that may raise questions about the legitimacy of his post-All-Star-break success.
Los Angeles Lakers SF/PF Kyle Kuzma
2 OF 5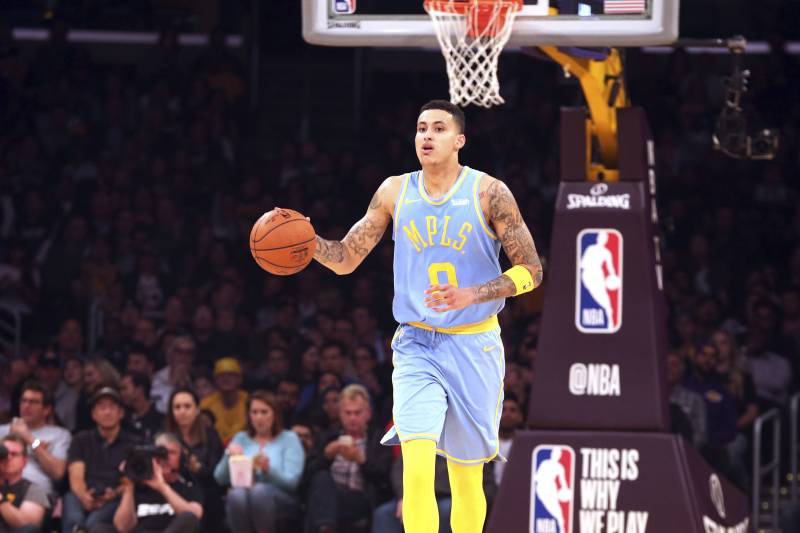 Reed Saxon/Associated Press
Kyle Kuzma was a top-five rookie after he averaged 16.1 points per game for the Los Angeles Lakers last year. But how much will he develop?
At 23 years old, Kuzma could be closer to his ceiling than others in his class. In addition, his window to improve appears smaller, particularly since he's already highly skilled.
He could also be looking at fewer touches and shots with the additions of LeBron James, Lance Stephenson, Michael Beasley and JaVale McGee. Kentavious-Caldwell-Pope is back, and Brandon Ingram and Josh Hart are expected to take considerable leaps forward.
Kuzma is a candidate for a letdown based on where he set the bar, and it wouldn't be surprising if he failed to match last year's numbers.
New York Knicks PG/SG Frank Ntilikina
3 OF 5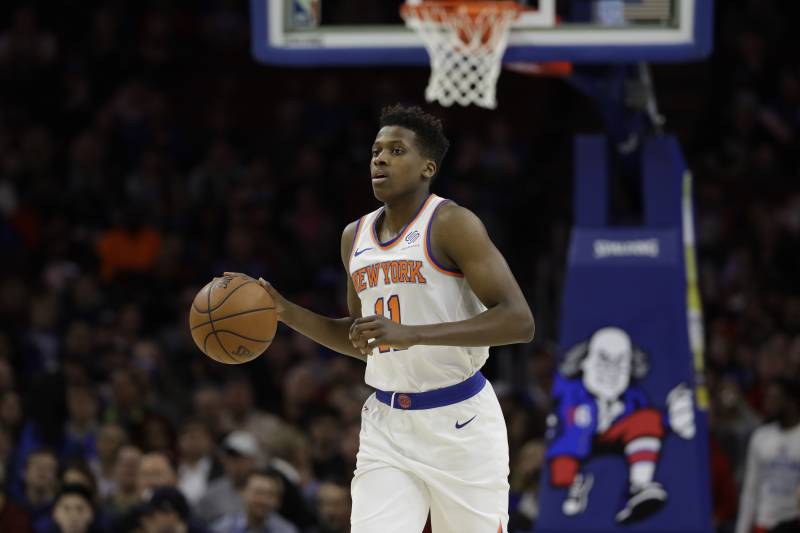 Matt Slocum/Associated Press
This is a key season for guard Frank Ntilikina, who flashed potential as a rookie, but compared to the others in his class, his 5.9 points and 3.2 assists per game on 36.4 percent shooting underwhelmed. And the New York Knicks haven't given him the most suitable environment to make the sophomore leap.
A limited shot-creator, Ntilikina would have benefited from having weapons to feed and take pressure off him. But with Kristaps Porzingis out until at least December with a torn ACL, the Knicks (and Ntilikina) will lean on Tim Hardaway Jr. and Enes Kanter.
Ideally, Ntilikina would have the chance to play long stretches and endure the trial-and-error process while building his comfort and confidence. However, although New York's expected to be one of the league's worst teams, he isn't guaranteed a bigger role. Trey Burke seems likely to start, Courtney Lee wasn't traded and Mario Hezonja is suddenly in the picture.
Ntilikina's production and efficiency won't drop off, but it's difficult to predict a major breakout for 2018-19.
Chicago Bulls PF Lauri Markkanen
4 OF 5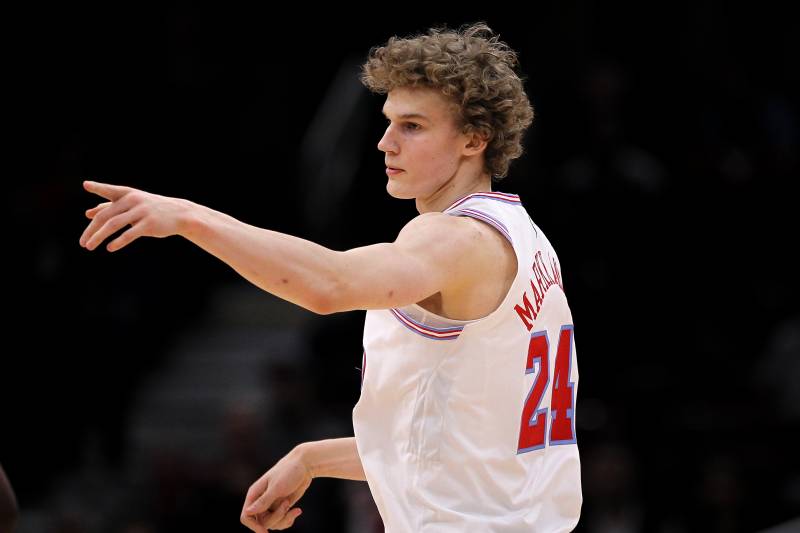 Dylan Buell/Getty Images
How will Jabari Parker's addition affect Lauri Markkanen?
Parker will steal touches and shots in a prove-it season on a two-year deal with the Chicago Bulls, who hold a team option for 2019-20. However, his potential to hurt spacing could make life tougher on Markkanen, who took 5.9 threes per game as a rookie.
As Bleacher Report's Dan Favale pointed out, per Cleaning the Glass, the Milwaukee Bucks had a minus net rating with Parker at the 3 in each of his four seasons. It wouldn't be ideal if Markkanen played between Parker and Robin Lopez, particularly if Kris Dunn (career 64-of-207 three-pointers) were also on the floor.
Add gunner Zach LaVine to the lineup full time, and Markkanen could see fewer looks with less space to operate as a sophomore.
Sacramento Kings PG Frank Mason III
5 OF 5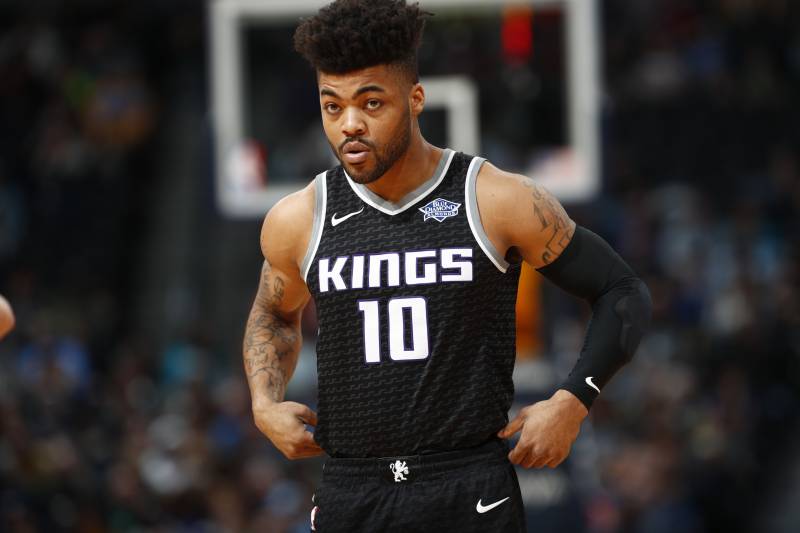 David Zalubowski/Associated Press
Frank Mason III was building a case to take the backup point guard job in Sacramento behind fellow sophomore De'Aaron Fox. And then the Kings signed Yogi Ferrell.
Mason averaged 7.9 points and 2.8 assists per game as a rookie, numbers he seems unlikely to surpass in 2018-19.
Since Bogdan Bogdanovic and Buddy Hield are locked in at shooting guard, Ferrell's arrival could mean DNPs for Mason.
He shot a combined 39.2 percent between the Sacramento and Las Vegas Summer Leagues as well. Mason may need another team to target him in a trade for a chance to expand on last year's flashes